Maimonides Health Delivers a Love Letter to Brooklyn
October 27, 2023
New work with Partners + Napier drives awareness among diverse Brooklyn communities
Maimonides Health, Brooklyn's largest healthcare system, is partnering with creative and media agency Partners + Napier to launch "My Bklyn. My Care.," an integrated program that cements Maimonides' position as the health system that knows Brooklyn best, highlighting its deep roots in the community, its high-quality and accessible care as well as its appreciation and shared pride for its diverse neighborhoods.
"Maimonides has been a cornerstone of the Brooklyn community since 1911, and this work is our love letter to Brooklyn," said Kenneth D. Gibbs, President and CEO at Maimonides Health. "We're incredibly proud to offer clinical specialties that rival the best in the country, with staff who know and care deeply about the community they serve. With this work, we're showcasing our clinical excellence through the real providers and real facilities where we deliver care. We want to show that the best way to care for Brooklyn is to love Brooklyn, and that's what we do every day."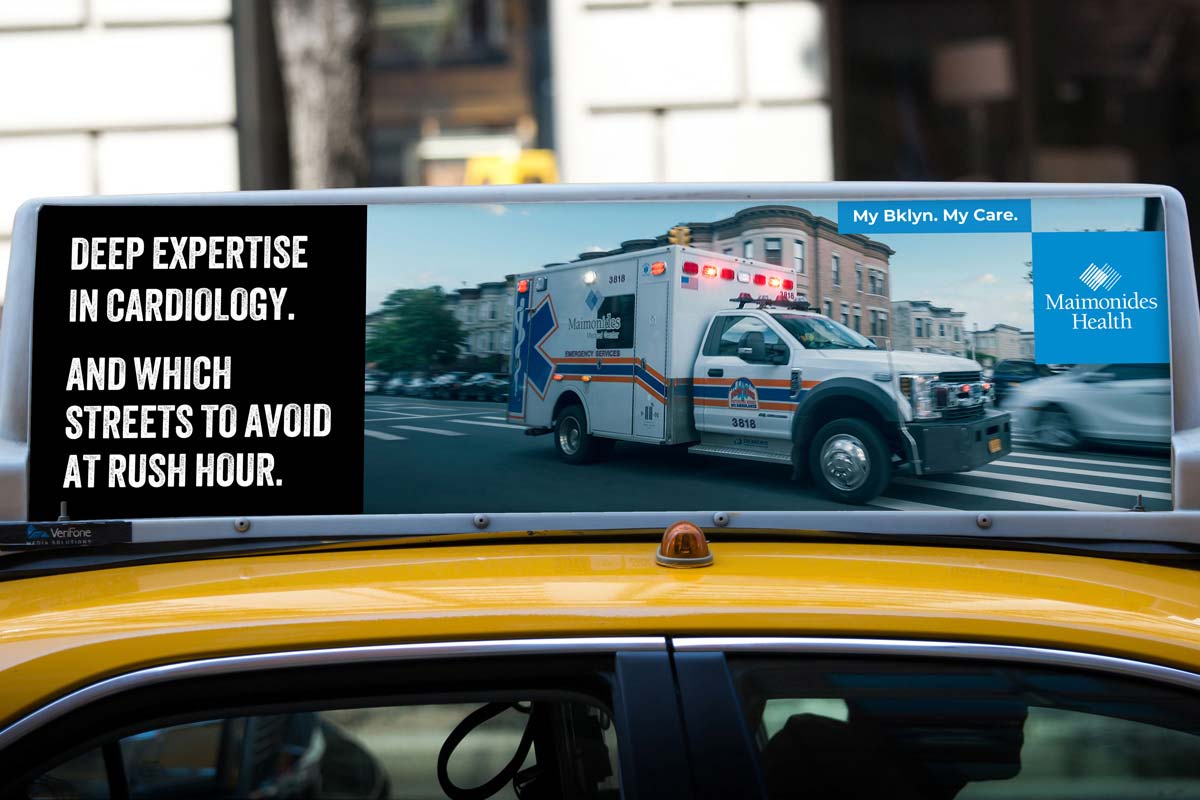 Brooklyn is one of the most diverse communities in the U.S., home to speakers of more than 200 languages with more than 50 percent of residents speaking a language other than English at home (Brooklyn.org). Audience research showed that as culturally different as its neighborhoods may be, there is a palpable sense of pride that unites them. "My Bklyn. My Care." highlights the incredible diversity and shared understanding of the Brooklyn community, reminding people about Maimonides' outstanding cancer center and its new Emergency Department in Bay Ridge, while also nodding to their expertise on the best deli in Midwood, and that their doctors and nurses are Brooklynites, too.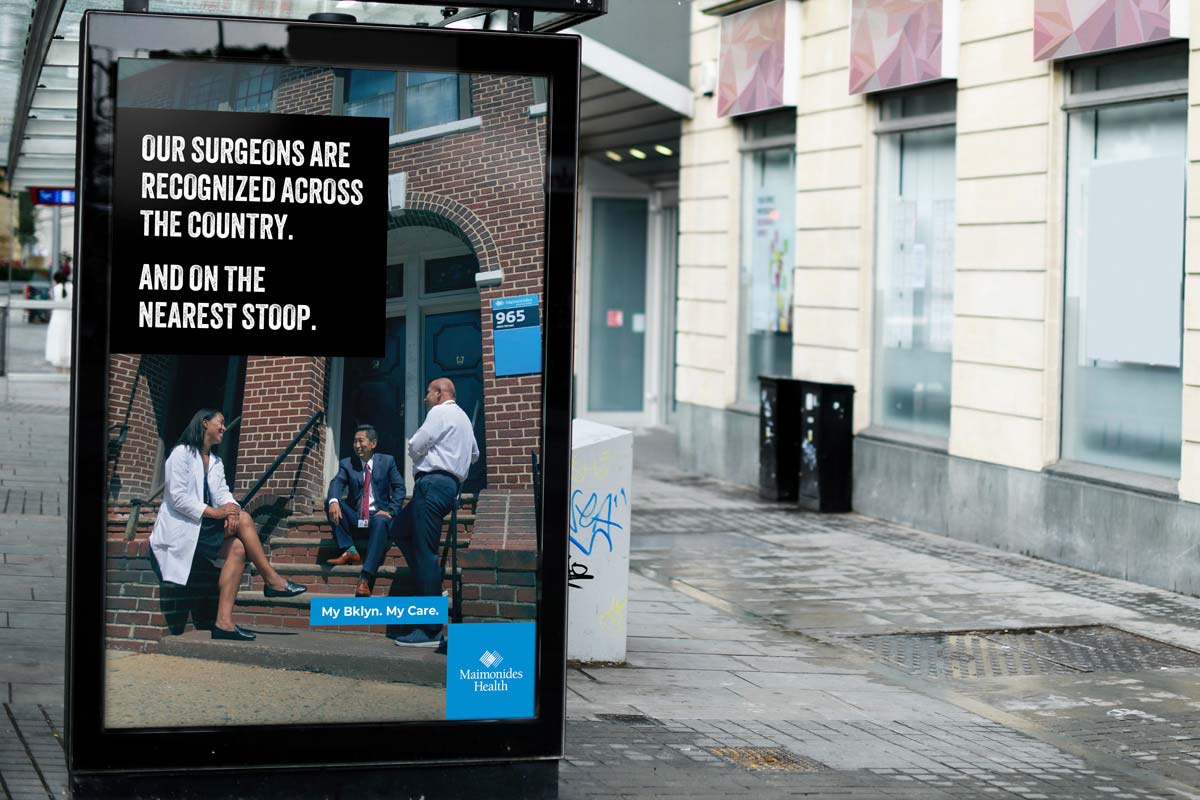 To reach the greater Brooklyn community while prioritizing key segments, media strategy focuses on broad-reaching channels such as TV, streaming audio, social media, and OOH in major, walkable, neighborhood centers, with more culturally specific print and radio advertising in Arab, Asian-American, Black and Afro-Caribbean, Hispanic, Jewish and Russian communities.
"We're proud of this work because it's not just about healthcare, it's about community," said Rob Kottkamp, Chief Creative Officer at Partners + Napier. "We're moving away from the overproduced standards of the category in favor of showing the real people of Maimonides, the real Brooklynites who know this community best. Because it's the people, their backgrounds, and their pride for Brooklyn that make care at Maimonides really special."
CREDITS
CLIENT
Maimonides Health
Director of Marketing: Michelle Liew
VP, Marketing and Communications: Suzanne Tammaro
CREATIVE AND MEDIA AGENCY
Partners + Napier
Group Creative Director: Dan O'Donnell
Creative Director: Louis Wittig
Associate Creative Director: MacKenzie Dunsmoor
Associate Creative Director: Dean Milliman
Associate Creative Director: Jason Ziehm
Senior Production Artist: JP Smith
Executive Producer: Danene DiCicco
VP, Head of Account Leadership: Lindsey Cash
Group Account Director: Cara Mittler
Group Account Director: Elyse Kosakowski
Assistant Account Executive: Rachel Rockwell
Director of Brand Strategy: Janine Perry
Director of Operations, Project and Resource Management: Melissa Smith
Associate Director of Project Management: Lauren Cole
Editorial Services Manager: Erin Dwyer
Production Supervisor: Wendy DiSalvo
Mechanical Artist: JP Smith
VP, Group Media Director: Jordan Murphy
Group Director of Media and Communications Planning: Greg Smith
Director of Media Buying: Michelle Spinnler
Senior Manager, Media Buying: Erica Erskine
Senior Media Buyer: Brenden Vujcec
Media Buyer: Amanda Baum
Director of Analytics: Megan Patrick
Senior Insights Analyst: Darshi Mehta
Chief Creative Officer: Rob Kottkamp
PRODUCTION COMPANY
We Know The Future
Director: We Know The Future
Director of Photography: Jamal Solomon
Line Producer: Justin Lundstrom
Photographer: Kivvi Rachelle
Retouching: Chris Bodie
EDITORIAL & FINISH COMPANY
PS260
Managing Partner: Zarina Mak
Executive Producer: Zeke Bowman
Post Producer: Ingrid Nunn
Editor: Tyler Hurst
Assistant Editor: Allie Thompson
Lead Flame Artist: Mark Popham
Finishing Producer: Yoko Lytle
TELECINE COMPANY
Company 3
Telecine Artist: Tim Masick
Producer: Ryan Moncrief
AUDIO POST PRODUCTION
PS260
Sound Designer/Mixer: Nicole Pettigrew
Managing Partner: Zarina Mak